Supported by the Secure Communities Scheme from Burg-Wächter.
A community bike project based in Hampshire is celebrating receiving a £500.00 award from the Secure Communities Scheme run by Burg-Wächter. The money donated will help set up bike refurbishment and maintenance courses which offer this training to locals. Pilot projects by the organisation have attracted participants from Bournemouth, Salisbury and Southampton and demonstrated the popularity and practicality of the courses which recycle unwanted bikes and provide participants with new skills, improved confidence levels and access to the local cycling network. Attendees can keep the refurbished bikes too, increasing independence, encouraging exercise and improving overall well-being.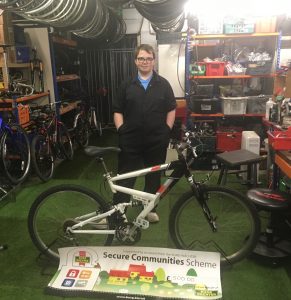 Mark Pearson, spokesperson for the BW Secure Communities Project commented, "It was easy to see the multiple benefits the New Forest Bike Project provides to the local community – reducing waste through recycling as well as offering training opportunities. The fact that participants can also keep the bikes at the end of the process is also a tremendous advantage." Burg-Wächter produces a wide selection of locking products including a range of cycle locks, a quantity of which have also been donated to the project as part of the award.
Speaking for the New Forest Bike Project, Louis Bonney commented. "Our aim is to refurbish 500 bikes per year. This includes running six courses for up to 24 people each. The cash from the Secure Communities Scheme will contribute to the costs of the courses and help us in the process of publicising the opportunity to local schools and community organisations."
The Secure Communities Scheme is now seeking more applications from community projects. Any local initiative that is run by or supports the local community can apply. The scheme is set up to support grassroots activities where an award of up to £1,000 might make a significant difference. Applicants also receive a tailored security kit to help secure property, premises, equipment or storage areas.
More information on the awards can be found at www.burg.biz/uk/community/.