BURG-WÄCHTER is launching Locktoberfest in this key season for security with consumers preparing for winter as the nights begin to draw in, the weather becomes less forgiving, and our homes and belongings need that extra protection. Combining the traditional German festival with all things security; Locktoberfest is our celebration and gift to the community, and our customers, jam-packed with deals, promotions and competitions – ALL OCTOBER!
What does Locktoberfest involve?
With home security a growing national concern in the coming months and to celebrate this opportunity for locksmiths, we are running a series of promotions and competitions, commencing and running throughout all of October 2021, where locksmiths can not only get excellent deals on a range of product – including cylinder locks, night latches, tubular latches, mortice locks, door chains and uPVC window handles – but also win fantastic prizes such as high-quality BURG-WÄCHTER locks as well as some authentic German beer. There is no better way to celebrate our roots!
Why now?
Mark Pearson, our commercial director at BURG-WÄCHTER said, 'As winter approaches, the cover of darkness gives criminals a significant advantage. Our first Locktoberfest is an engaging way to not only highlight serious security issues but to also give locksmiths the opportunity to offer customers peace of mind that their homes are protected against break-ins this winter.' BURG-WÄCHTER is ready to kick off home security in a major way, giving safety and assurance to members of the community as the days are getting shorter, and incredible deals for partners to save on costs.
Some of our Deal Highlights…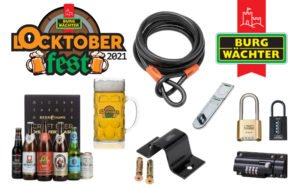 25% off select BURG-WACHTER bicycle locks
Multi-buy offers on Doorminder 3 Star and 1 Star Euro Cylinders
Multi-buy offers on uPVC Door handle  with free window handles
Free stock multi-buy offers across night latches, mortice locks and tubular latches
Retailer incentives including German beer and prizes
We hope to get everyone excited and involved in Locktoberfest 2021 – there are so many exciting deals to be snatched up, and of course – beer! Stay tuned for further details on our deals and prizes.