Sold Secure approved anchor, chain and U-lock kit
Everything you need for premium security at home. The Office of National Statistics indicate that most reported bicycle thefts actually occur at home. Therefore, it is worth considering upgrading your security to keep your two-wheeled investment safe whilst it is parked up. We paired three of our bestselling Sold Secure products together to make the ultimate home security kit. It includes our Bicycle Diamond U-lock, heavy-duty ground anchor and GKM 10mm Sold Secure Bicycle Gold heavy-duty chain.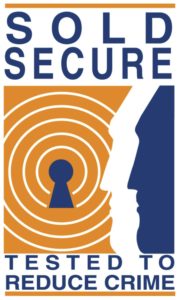 Independantly tested by Sold Secure
The 1480 HB U-lock and heavy duty ground anchor is independently tested and approved by Sold Secure. Bicycle Diamond offers the highest levels of security against all common attack methods such as hacksaws and bolt croppers. They are also approved for use with motorcycles, meeting Sold Secure Gold. This is paired with a heavy duty hardened steel GKM 10mm chain that meets Sold Secure Bicycle Gold. The perfect choice for bicycles and motorcycles / scooters.
Police recommended
The 1480 HB U-lock, SA 1280 ground anchor and GKM chain were awarded "Secured by Design" – the official Police initiative to support reducing crime through good product design. The "SBD" logo shows the product meets strict standards through independent certification and good product design.
Ideal for general security
Not only will this kit protect your two wheeled investments, it is also ideal for general security, including sit on lawn mowers, ATV's, trailers and anything else a chain can be securely placed around. (Note: Sold Secure Certification covers Bicycles – please call your insurance company for recommendations).
SA 1280 Ground Anchor at a glance
wall or floor mounting
6mm hardened steel plate
10mm tamper resistant anchor bolts
ball bearings for tamper resistant bolt heads
ideal with Sterling security chains and cables
Sold Secure Bicycle Diamond & Motorcycle Gold
1480 HB 100 60 at a glace:
Sold Secure Bicycle Diamond & Motorcycle Gold
double bolted mechanism
case hardened steel shackle and body
protective rotating keyhole cover
weather resistant
strong disc locking mechanism
large number of key differs
GKM chain at a glace:
high-quality textile-coated
10 mm squared links
Hardened steel resists attack from hacksaws and bolt croppers
Sold Secure Bicycle Gold & Motor Scooter Silver Approved
Secured by Design Police preferred specification
Available in a choice of lengths: 100, 150 and 200cm
| Art.-No. | Chain Length | Shackle W x H | Shackle Ø |
| --- | --- | --- | --- |
| | cm | mm | mm |
| GKM 1.0 Kit U&A | 100 | 97 x 60.8 | 16.0 |
| GKM 1.5 Kit U&A | 150 | 97 x 60.8 | 16.0 |
| GKM 2.0 Kit U&A | 200 | 97 x 60.8 | 16.0 |