Sold Secure approved heavy duty D-lock
Sturdy, secure and dependable – The 1600 HB D-lock is the ideal solution for keeping your bicycle secure on the move. Easy to use, just insert the key, remove the shackle, place it around a strong immovable object and push it back into the lock body. Available with a standard 210mm shackle or an extra-long 280mm variant for extra reach. The supplied bracket attaches easily to the bicycle frame and makes taking it on the move easy – no need to remember to place it in your bag.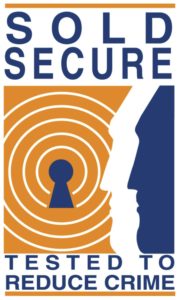 Independantly tested by Sold Secure
The 1600 HB is independently tested and approved by Sold Secure. Many insurers will request this certification to ensure your bicycle is secure, even when out of sight. Bicycle Gold offers high levels of security against all common attack methods such as hacksaws and bolt croppers.
Police recommended
The 1600 HB was awarded "Secured by Design" – the official Police initiative to support reducing crime through good product design. The "SBD" logo shows the product meets strict standards through independent certification and good product design.
1600 HB D-lock at a glance
Strong and robust long shackle lock
Hardened steel shackle and body resists hacksaw and bolt croppers
Double-bolted shackle for extra strength against pull attack
Shackle and body covered in durable plastic to protect against scratches
Includes an easy to fit bracket for mounting to bicycle frame
Covered key hole
Sold Secure approved to Bicycle Gold standard
Secured by Design recommended
Standard shackle on 1600 HB 170/210 or long shackle on 1600 HB 170/280
Bike Lock Wiki 1600 HB Lock Review:
If you want to hear what the experts think of the 1600 HB before purchasing, Bike Lock Wiki have written a reliable and honest review, covering all areas of the lock's functionality and value – from its locking mechanisms and operation, to its price and package. Follow the link below for an extensive evaluation of this U-Lock (otherwise known as D-Lock):
https://www.bikelockwiki.com/burg-wachter-1600-hb-review/
How to use
| Art.-No. | Shackle Size (W x H) | Shackle Ø | Shackle Type |
| --- | --- | --- | --- |
| | (mm) | (mm) | |
| 1600 HB 170/210 | 106 x 210 | 16.0 | Standard |
| 1600 HB 170/280 | 106 x 280 | 16.0 | Long |