All-in-one Sold Secure approved security kit for bicycles
The ideal solution for those wanting to protect their new bicycle purchase, or for those looking to upgrade to a better lock. The simple two part kit includes a heavy duty D-lock, ideal for securing the frame to a immovable fixing point, and a strong security cable for securing the wheels to the frame.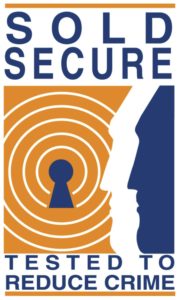 Independantly tested by Sold Secure
The supplied D-lock and security cable are both independently tested and approved by Sold Secure. Many insurers will request this certification to ensure your bicycle is secure, even when out of sight. Do not forget, ONS data shows most bicycle thefts actually occur at home, so consider a good anchoring point to secure your bicycle to, such as a ground anchor.
The 1600 HB Kit includes:
1600 HB D-Lock – Sold Secure approved to Bicycle Gold

Available in a choice of shackle lengths
210mm standard shackle (1600 1.2 HB Kit) or 280mm long shackle (1600 HB 2.1 Kit)

12mm Self Coiling Cable – Sold Secure approved to Bicycle Silver

1.2 metre supplied with 1600 1.2 HB Kit
2.1 metre suppled with 1600 2.1 HB Kit
Police recommended
The 1600 HB Kit was awarded "Secured by Design" – the official Police initiative to support reducing crime through good product design. The "SBD" logo shows the product meets strict standards through independent certification and good product design.
1600 HB Kit at a glance
1600 HB D-Lock

Strong and robust long shackle lock
Hardened steel shackle and body resists hacksaw and bolt croppers
Double-bolted shackle for extra strength against pull attack
Shackle and body covered in durable plastic to protect against scratches
Includes an easy to fit bracket for mounting to bicycle frame
Covered key hole
Sold Secure approved to Bicycle Gold standard
Secured by Design recommended
Standard shackle on 1600 HB 1.2 Kit and long shackle on 1600 HB 2.1 Kit
121C / 122C Self Coiling 12mm Ø Security Cable

Braided steel 12mm Ø cable for increased strength
Resists hacksaw attacks
Vinyl coated to protect bicycle against scratches
Self-coiling design makes for easy storage
1.2 metre in length on 1600 HB 1.2 Kit, or 2.1 metre on 1600 HB 2.1 Kit
How to use
| Art.-No. | Shackle Size (W x H) | Shackle Ø | Cable Length |
| --- | --- | --- | --- |
| | (mm) | (mm) | (cm) |
| 1600 HB 1.2 Kit | 106 x 210 | 16.0 | 120 |
| 1600 HB 2.1 Kit | 106 x 280 | 16.0 | 210 |