Discover Burg-Wächter's new Bicycle D-Lock and Security Cable Kit – the solution to all your bike security problems.
It's no surprise that the amount of people taking up cycling has increased dramatically over lockdown, as we take the extra time on our hands to focus on improving our lifestyle and wellbeing. In fact, government statistics showed that cycling went up by 300% during the lockdown. Unfortunately that increase, accompanied by darker evenings, has created a subsequent rise in the amount of bike theft. For instance the statistics for June this year demonstrated a significant spike, with thefts up 48% from last year.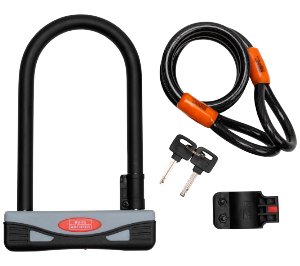 As restrictions ease, there is the risk that criminals will benefit from poor locks and a lack of knowledge to what good cycle security looks like. Cycling UK recommends cyclists to use Sold Secure approved locks, as well to use two locks to ensure safety. Their guidance for effectively securing your bike is to lock the back wheel and frame with a sturdy D-lock, and to secure the wheels to the frame with a strong cable.
Thankfully, Burg-Wächter's D-Lock and Security Cable Kit provides you with exactly that, as well as a convenient mounting bracket to attach the D-lock to the bicycle frame when not using it. Both the lock and cable are certified as Sold Secure Gold, proving that they are tested for a higher level of resistance against a dedicated thief. Alongside this, the bike security kit is 'Police Approved', as part of the Secured By Design (SBD) police security initiative, recognising it as a quality product in deterring and reducing crime.
Advantages at a glance:
Gold Sold Secure rating for bicycles
Double bolted mechanism for ultimate strength
Hardened steel shackle and body
2M 12mm thick security cable included
2 keys & frame mounting kit supplied
With over 100 years in the security industry, Burg-Wächter is well known for quality and innovative security solutions.