Youth and community football clubs from Reading, Chesham and Suffolk have all been awarded free security kits to help lock up their training equipment. The awards were made during the Covid-19 lockdown and were part of an initiative by the Secure Communities Scheme to help community projects to meet the unexpected costs of securing premises during the pandemic.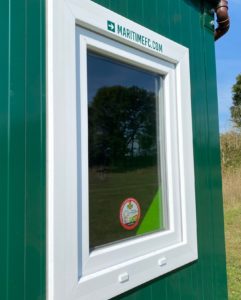 The Reading Football club community trust works with communities in the Thames Valley region to 'Care, Develop and Educate' using football as a central theme. The club closed in response to the C-19 restrictions, and the organisers were concerned that the storage containers on the site were vulnerable.
Chesham Utd Youth FC decided to blow the whistle on anti-social behaviour and install a secure storage unit to stop greedy thieves and thoughtless vandals from damaging and stealing the club's equipment.  Despite Covid-19 effectively putting a stop to the club's fund-raising activities, the members are still determined to get the money needed to install a large steel container on their site.
Heading to the east of the country, Suffolk-based Maritime Football Club is a popular club serving the area around Hadleigh. With an active youth membership and strong first team, its pitches and equipment are typically in constant use. This presents a security challenge regarding keeping equipment safe and managing authorised access to the playing fields. Speaking for Maritime Football Club, Jon Haines commented: "We are a small youth football club and money is always right, especially with COVID this year. We'd been fortunate enough to receive a small grant for some equipment but without the necessary security we couldn't take delivery. We are so grateful to Burg-Wächter and their Community Scheme for kindly providing us what we needed to secure our club and equipment. It really has made a huge difference to a lot of families in the local area."
The Secure Communities Scheme has supplied free security kits to all three clubs to help ease the additional burden they faced during the C-19 lockdown, allowing them to lock up training equipment or to secure storage areas and goal posts.
Mark Pearson from Burg-Wächter, the company behind the Secure Communities Scheme commented: "Burg-Wächter is known for its comprehensive choice of locking products as well as an extensive range of safes and post-boxes.  We saw a rise in demand for such products during the Covid-19 lockdown.  We knew that communities would struggle to meet the unexpected cost of providing extra security during the restrictions, so we adapted our existing Secure Communities Scheme to reflect this need.  Since lockdown commenced, we have provided over 20 security kits worth £150 each to communities across the UK, with many more applications currently being processed.  We hope the Scheme's support for these football clubs will help members feel safe, keep equipment secure and training enjoyable.
The Secure Communities Scheme is now seeking more applications from community projects that are still affected by the pandemic restrictions.  Any local initiative that is run by or supports the local community can apply.  Successful applicants receive a tailored security kit to help secure property, premises, equipment or storage areas to the value of £150.  Successful applications are selected dependent on their engagement with local communities, the impact of the lockdown on security requirements and the benefits that increased security can provide.  Application forms for the Secure Communities Scheme can be found here: https://uk.burg.biz/community/. More information on the football clubs can be found here – Reading FC Community Trust: http://community.readingfc.co.uk/ Chesham Utd Youth FC: http://cheshamunitedyouth.co.uk/ Maritime FC: https://www.maritimefc.com/