Innovative digital door cylinder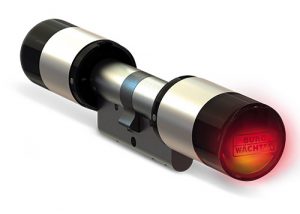 secuENTRY pro is a new electronic locking system by Burg-Wächter. The system is designed to provide greater locking convenience within the private and commercial sectors. secuENTRY 7000 features a digital cylinder that directly replaces standard euro cylinders. It  can be operated via passive transponders or a compatible smartphone. The addition of a wireless keypad allows for entry via entry of a pin code or a swipe of a finger print on compatible models. The cylinder knob has a minimalistic design that combines comfort and the highest level of security.
A scalable system that grows with your business
Many individual cylinders form a complete locking system that can be expanded with components to grow with the users' needs and requirements.
For example, the addition of a secuENTRY Relay enables the activation of door openers or roller doors. Alternately with a secuENTRY Remote, an alarm system can be integrated to function with the locking cylinder.
Software that makes management easy
secuENTRY access control is managed via PC software that allows for management of access codes, time-limited access and audit features. The software can be combined with a secuENTRY Enrolment module, allowing for passive transponders to be programmed with time-limited access rights.
Smartphone ready
Programming of the system isn't just limited to a PC. Two high-performance apps turn mobile smart devices into practical helpers for programming and operating the system. Utilising Bluetooth 4.0 L.E, the apps can manage users and cylinders and function as a digital key, allowing access to the cylinder and entry when in range.
secuENTRY Hotel – Access control made easy
We are also pleased to introduce secuENTRY Hotel, featuring a unique code generating system for issuing guest access codes for multiple hotel rooms and specific booking periods. The system offers quick and easy check-in / check-out. Installation is easy as it is completely wireless and doesn't require the wired networking/power of a traditional access control system.
Awarded the PLUS X AWARD.
The secuENTRY range from Burg-Wächter has been awarded the PLUS X AWARD "BEST PRODUCT 2015/2016", and also received the quality seal in the categories of high quality, design, operating comfort and functionality.